Bioskop

"Silariang: Cinta Yang (Tak) Direstui" rilis trailer resmi - ANTARA News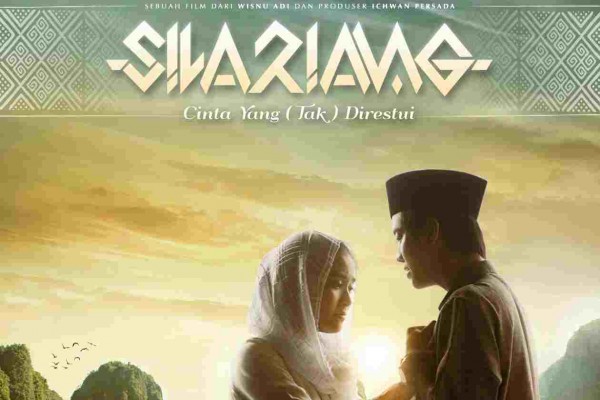 Jakarta (ANTARA News) - Trailer resmi film "Silariang: Cinta Yang (Tak) Direstui" yang dibintang oleh Bisma Kharisma dan Andania Suri diluncurkan di kanal Youtube Inipasti Communika, Minggu (10/9). Penonton diajak menikmati sebuah kisah cinta antara Yusuf (Bisma Kharisma) dan Zulaikha (Andania Suri) yang penuh perjuangan hingga harus Silariang (Kawin Lari) karena hubungan yang tidak direstui oleh orang tua mereka.Trailer "Silariang: Cinta Yang (Tak) Direstui" yang bisa diakses di http://bit.ly/filmsilariang tidak hanya menonjolkan banyak tradisi Bugis Makassar namun juga menampilkan keindahan panorama Rammang-Rammang, salah satu destinasi wisata utama di Sulawesi Selatan.Trailer itu diluncurkan secara resmi pada pembukaan Makassar International Eight Festival & Forum 2017 [F8] 6 September lalu. Produser eksekutif Prisilla Puspitasari dalam siaran pers menuturkan Wali Kota Makassar, Danny Pomanto dan Kepala Badan Ekonomi Kreatif, Triawan Munaf memberikan pujian saat pemutaran perdana trailer ini. "Kami sangat senang Wali Kota Makassar dan Kepala Bekraf mengapresiasi kerja keras yang sudah kami lakukan selama hampir setahun. Semoga apresiasi tersebut juga menular ke masyarakat luas saat film ini tayang di bioskop nantinya."Ichwan Persada, produser sekaligus penulis cerita mengaku semangat mengerjakan film ini karena mengangkat budaya lokal. "Dalam beberapa tahun belakangan, ada kegairahan untuk mengangkat isu-isu lokal. Bahwa Indonesia bukan hanya Jakarta atau Jawa. Indonesia terbentang luas dari Sabang sampai Merauke. Sebagai putra daerah, tentu saja saya juga ingin mengangkat nilai-nilai budaya dari kampung halaman saya, Makassar. Dan saya percaya kearifan lokal bakal menjadi kekuatan baru di perfilman Indonesia." "Film ini sarat dengan budaya Bugis namun dikemas secara populer khas anak muda ini memperlihatkan sejumlah nilai-nilai budaya yang baik yang bisa ditiru. Kami juga ingin menunjukkan kepada publik keindahan Kota Makassar dan Propinsi Sulawesi selatan yang kami ekspose secara maksimal di film ini. Kami mempersiapkan dan mengerjakan film ini dengan sepenuh hati, harapannya masyarakat bisa menikmati cerita dan gambar yang bagus ketika datang ke bioskop dan menikmati film kami," tutur Ichwan.Film ini disutradarai oleh Wisnu Adi dan Kunun Nugroho dengan penulis skenario Oka Aurora. Diproduksi atas kerjasama Inipasti Communika bersama Indonesia Sinema Persada dan Maogi Production. Dibintangi oleh sederet aktor muda Indonesia, seperti Bisma Karisma, Andania Suri, peraih dua piala Citra, Dewi Irawan, serta aktor lokal berbakat Makassar seperti Nurlela M. Ipa, Muhary Wahyu Nurba, Sese Lawing, Cipta Perdana, Fhail Firmansyah dan didukung sejumlah pemain-pemain berbakat Makassar lainnya. Selain di bioskop Tanah Air, film ini juga direncanakan untuk tayang di Malaysia pada akhir 2017.
Editor: Fitri Supratiwi
COPYRIGHT © ANTARA 2017
Read More
Leave A Comment
More News
Disclaimer and Notice:WorldProNews.com is not the owner of these news or any information published on this site.