Berkenalan dengan komunitas pecinta Superman di Indonesia - ANTARA News
Jakarta (ANTARA News) - Dalam acara Battle of The Toys (BOTT) 2018 di Jiexpo Kemayoran, Jakarta Pusat, sebuah komunitas bernama Superman Fans of Indonesia (SFOI) hadir menunjukkan eksistensi.
Mereka kompak mengenakan kaos berwarna biru bertuliskan Superman Fans of Indonesia. Bahkan beberapa di antaranya memakai kostum ikonik Superman berwarna kombinasi biru merah, lengkap dengan celana dalam dan sayap merahnya.
Tak hanya itu saja, mereka juga membawa beragam koleksi bertema Superman yang dipamerkan di dalam kotak kaca. Orang-orang ini tak lain merupakan para pecinta tokoh superhero fiksi Superman asal Indonesia.
Ketua SFOI Rio Diposayoga mengatakan komunitas ini sudah berdiri sejak 8 tahun lalu.
"Tepat hari ini kita merayakan ulang tahun yang ke-8," ujar Rio, Minggu (9/9).
Rio mengatakan komunitas ini tidak hanya ada di Jakarta, tetapi juga terdapat di sejumlah daerah lainnya, sepeti Solo, Bandung, Surabaya, Semarang dan Manado.
Tiap-tiap wilayah memiliki anggota sekitar 50 orang. Khusus untuk di Jakarta, anggotanya lebih banyak lagi, yakni hingga 100 orang.
Baca juga: Aktris "Superman" Margot Kidder tutup usia
Komunitas ini menggelar kegiatan kopi darat satu bulan sekali. Dalam kopdar tersebut, para anggota yang kebanyakan pekerja kantoran dan mahasiswa ini saling bertukar pikiran dan informasi tentang perkembangan terbaru superhero idola mereka.
Selain itu, tiap-tiap anggota juga kerap berdiskusi sambil mengagumi koleksi masing-masing. Rio sendiri mempunyai koleksi kesayangan. Koleksi yang dimaksud adalah action figure Superman yang diproduksi tahun 1980-an.
"Ini agak vintage ya, dia produk lama," ujar Rio sambil menunjuk koleksinya.
Kini, koleksi Rio sudah mencapai 2 lemari. Semua dia kumpulkan sejak tahun 1990-an.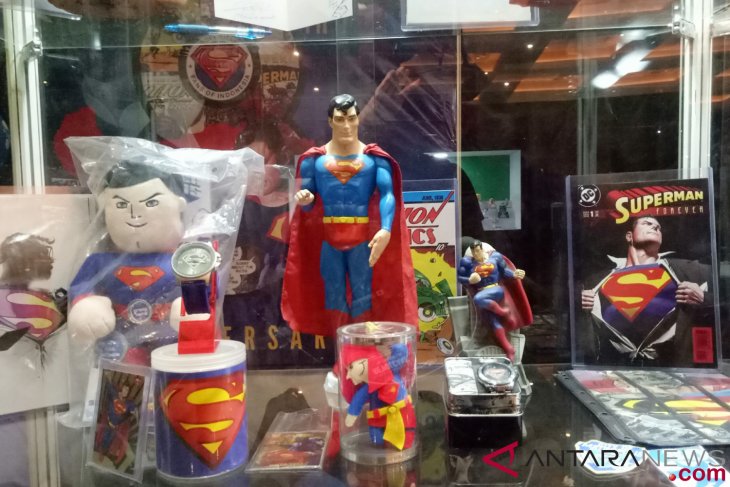 Sejumlah koleksi milik komunitas Superman Fans of Indonesia di acara Battle of The Toys (BOTT) 2018, di Jiexpo Kemayoran, Jakarta Pusat, Minggu (9/9/2018) (ANTARA News/Fathur Rochman)
Hunting luar negeri dan menabung
Rio mengatakan banyak cara yang dilakukan anggota komunitas demi menambah koleksi mereka ini.
Cara paling mudah memang mencarinya secara online atau datang ke pameran mainan seperti Battle of Toys ini.
"Tetapi banyak juga yang hunting di luar negeri atau titip kerabat yang sedang ke luar negeri," ujar Rio.
Baca juga: Superman, Batman, Thor, dan Sinterklas bersihkan sampah Pantai Kuta
Meski demikian, Rio mengaku hobi ini termasuk hobi yang merogoh kocek. Anggota komunitas biasanya harus menabung terlebih dahulu untuk mendapatkan koleksi yang mereka inginkan.
Meski hobi, anggota komunitas ini tetap realistis dan berhati-hati mengatur pengeluaran mereka. Jangan sampai dompet menjadi terkuras demi membeli koleksi-koleksi Superman kesayangan.
"Jadi setiap bulan dari pendapatan kita harus di-budget-kan, itu harus disiplin. Kalau lebih dari budget ya jangan belanja. Kalau nekat ya tanggung sendiri," ujar Rio.
Komunitas ini membuka kesempatan bagi pencinta Superman lainnya untuk bergabung. Syaratnya sederhana, yaitu harus punya koleksi benda bertema Superman. Setelah itu, bisa langsung bergabung dan ikut kegiatan mereka setiap bulan.
Rio menambahkan informasi tentang kegiatan komunitas diinformasikan lewat akun Facebook dan Instagram dengan nama sama yaitu Superman Fans of Indonesia.
Baca juga: Pemain "Superman" bergabung dalam "Mission: Impossible 6"
Pewarta: Fathur RochmanEditor: Alviansyah PasaribuCOPYRIGHT © ANTARA 2018
Read More