Crappy Sleep? Do These 4 Things.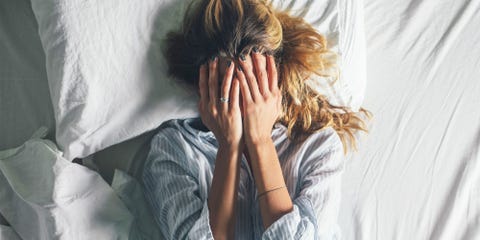 Stocksy
When it comes to being a morning person, you're either born with proclivity for early wake-up calls or...you're not. Those in the latter camp needn't let themselves be physically betrayed by red eyes or puffy faces. Battle the morning with the right products and tricks, gathered below from celeb makeup artist and ambassador for the LUMIFY redness reliever eye drops from Bausch + Lomb, Vincent Oquendo (a man who knows his stuff—the night before we chatted, he'd rolled in at 1:30 a.m. after a 24-hour marathon session with one of his clients).
"It's my job to make my clients look like their best selves," he says. "Not to recreate someone, but to make them look like their best, most confident self." Oquendo put together this "perk-up bag," filled with stuff we should all keep on-hand for a midday touch-up or early morning fix. Now only you'll know how little shut-eye you got, my dear.
Advertisement - Continue Reading Below
1 Relieve Redness
"I use LUMIFY redness-reducing eye drops on myself and on clients, especially if we have red eyes when we're doing long press tours or they're coming off a red-eye flight. No matter what makeup I do, if eyes look red and tired, that's it. If someone has irritated looking eyes, I'll finish their eye makeup, [and] give them Lumify. It only takes one minute to work. I've been doing makeup for a long time, and this is the most effective redness reliever eye drop I've ever used."
Lumify Redness Reliever Eye Drops; lumifydrops.com/Special-Offers
SHOP
Advertisement - Continue Reading Below
Advertisement - Continue Reading Below
2 Get the Blood Moving
"I'm a big fan of anything that promotes circulation under the skin. [Find a crystal that] is palm-size, and you can keep it in your bag [to use] when you've just woken up or feel puffy. I'll actually massage my clients before a makeup application—it brings blood to the surface of your skin so you look more awake and helps sculpt your features—but I look like an absolute crazy person. This tool takes the guesswork out of. Do it for five minutes, and you'll look refreshed."
Advertisement - Continue Reading Below
Advertisement - Continue Reading Below
3 Make Your Eyes Look Bigger
"A beige pencil is bomb. After using Lumify, the redness in your actual eyes is reduced, but when you're tired your waterline also gets redder. This is the topical way to cancel that out. Your eyes look smaller when you're tired too, and this makes them look bigger. For a long time theater people would use white liner, but that's a little stark. Beige is subtle and almost undetectable. You just look well-rested."
Advertisement - Continue Reading Below
Advertisement - Continue Reading Below
4 Add a Punch of Color
"One of the oldest, oldest, oldest tricks in the book when you're feeling tired is to put a bright color on your lips. The biggest fear with that is that [after a few hours] it will be eaten up and you're just left with lip liner. This is the answer, especially because when you're tired you don't want to worry about retouching lipstick. Paint a lip stain on and keep balm in your bag to put on top. If you ever think it's too bright, wait until it's dry and layer a creamy beige lipstick over it. It's the prettiest thing you've ever seen in your whole life."
Advertisement - Continue Reading Below
Advertisement - Continue Reading Below
Read More